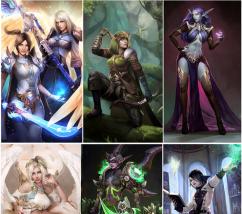 I'd love to share my story. Sorry if I make mistakes, English is not my native language. You can correct them if you want.
I always loved to draw, since I was a little girl I remember everyone telling me I had a natural talent, and I was lucky enough to be encouraged by my family to explore my artistry. I didn't think of becoming a professional artist until I discovered websites for artists on the internet. At that time I was drawing using Microsoft Paint, so I started uploading stuff and I got a nice reaction. I met other artists through the forums and learned so much from people all around the world. I discovered Photoshop too, so I bought the cheapest digital tablet and started practicing and learning the program on my own. I was 17 years old when I got my first commission, It was a one way road.
I feel so grateful to have my passion translated into a paid job. It's a dream come true. It's thrilling to check for messages everyday and wonder what new character or scene someone may ask me to draw for them. In a way, I think they are letting me into their minds and play with their ideas to come up with something new and original, and that is fascinating. And once I send the finished drawing and I get the client's reaction it's an indescribable feeling. It warms my heart to know that people like what I do.
But every artist has to deal with their own ghosts. There are moments when I think I'm not good enough, and everything I've done turns into a sloppy catalogue of a wannabe artist. I have to deal with art blocks too, that connect deeply to that feeling I mentioned before. But it's an experience that always provides something new. I believe artists never finish to learn and discover new things. The art mutates with you, it's a symbiotic exchange. I am constantly learning and including this knowledge into my art. That's when you start seeing your personal signature on your drawings, and people see it too.
I found Artistsnclients searching for new websites to upload my art. I discovered this amazing community and it was very helpful for me. I met a lot of great people and I consolidated myself as a freelancer thanks to it.
I will keep doing my best because I really love what I do, and I can only see new and exciting projects in the future!