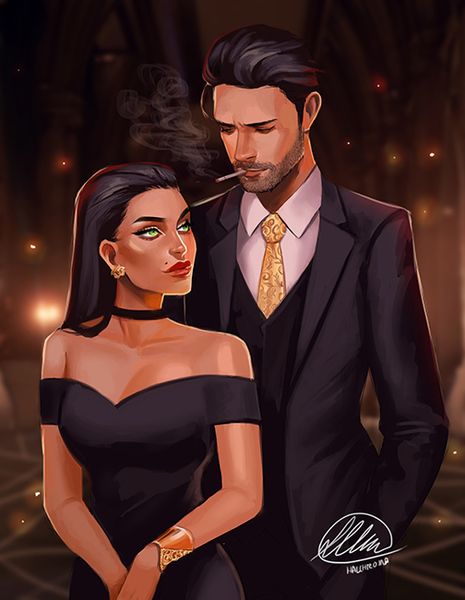 Being an artist as a freelancer and a hobbyist seems much more than just a job or an activity I enjoy doing. It has become a larger part of myself and well-being, It's therapeutic, and it keeps my eyes open to the possibilities this world has to offer. Being an artist means I possess the skill of creativity, which is vital in all other aspects of my life. I've been drawing and painting my whole life, from the time I could hold a pencil in my tiny hand, so I can't exactly say when I wanted to be an artist as a "grown-up." I think it may have stemmed from the days I spent asking my friends if I could draw for them during recess when I was 11, or perhaps it was when I first received my digital drawing tablet before I turned 12. Despite knowing if I ever made the decision, it has brought me to where I am today.
All artists encounter their own challenges, for one cannot improve their skills without finding something to improve in the first place. My challenge was to grasp the freedom of digital art as opposed to painting and colored pencil, which I was used to. My strokes didn't blend as well as oil did on canvas, and my sketches didn't come out the same on a computer screen as they did on paper. However I knew that with mindsets like these, holding me back, I would never become the artist I desired to be. It came down to finding the proper software and brushes I was comfortable with, and after working with various tools I finally settled on what I use today. I know that this, too, may change, but the evolution of my tools act as stepping stones toward my goals.
While I've had so many wonderful experiences as an artist, one of the most memorable was actually a recent one. Just a few weeks ago, I had a new client reach out to me, wanting to purchase a commission. It was the largest piece I had ever done - a panoramic landscape with nine characters and an animal. I was so excited to be given this opportunity, as it was a type of digital painting I didn't think I was good at - conceptual landscape art. However as I set myself to work on it, I found that I was incredibly proud of the finished piece. As my first digital landscape/scene, and not thinking I could do it well, it turned out so much better than I had hoped. I thanked my client and became excited for working on more pieces, allowing me to build my skill in concept art.
I heard about Artistsnclients by researching websites where I could sell my art and advertise for commissions, because I wanted to expand my capabilities as a character and concept artist by interacting with unique people and their unique requests. I'm glad I found this website because it has given me a new platform to find wonderful people to work with!