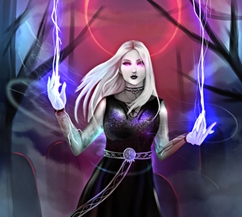 "Art saved my life."
Being an artist feels great. You work doing what you love, and that is priceless. My first encounter with art was many years ago when I drew the characters from my favorite anime and comics.
The first challenge was losing my job. The company I worked for scammed me, they used my designs and after several months without good pay, the company filed for bankruptcy and I lost what little I had.
The second challenge was losing the fear of drawing for other people. But I realized that fear did not pay the bills or the food, so I decided to open commissions. Each commission has been a challenge, but also a great pleasure, each piece fills my heart. And also my pocket; What more could you want?
The best experience I have had as an artist and it is still a wonderful experience is when I read my clients' opinions about the art I make for them. One client wrote: "Excellent artist in the way that counts the most for a commission; understanding. AlenyerC is by far one of the few artists in A & C who really listens, strives, and goes above and beyond to convert that mental image into a beautiful image. "Words alone cannot really describe how pleasant it was to work with this talented person." That was my best experience as an artist, no doubt. Reading what others think is the best in the world.
I found out about artists and clients because I was selling my first drawings in Facebook groups, but since they were very cheap for their quality, a friend sent me the link on this page. And it's something that to this day I really appreciate. Well, it has helped me to progress in an artistic and professional way. Thank you very much Artists and Clients!