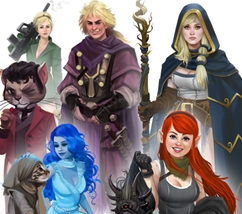 It's always been what has come naturally to me and I always enjoy creating art as a cathartic thing.
I like to think I'm always facing challenges. I don't think I'll ever stop improving and studying techniques and things like anatomy/color/composition, etc. But I'm never 100% happy with what I create. So there's always a drive there. My most significant experience as an artist was getting to do 8 pages for Heavy Metal magazine.
It was a great hallmark for my art career and I'll always be grateful for it.
I found out Artists&Clients by google search. I've read some reviews on some platforms for online freelance and so far my experience has been very positive, both with the platform itself but also with the users of the site.