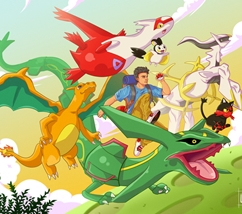 Drawing is a step in my life.
3 years ago I spent my life working in a hospital, but it felt so hard and made me a little depressed because I could not feel happy. So I decided to resign from the hospital and started drawing.
At first I draw on paper with watercolors, it lasted for a year, until finally I met a friend who is good at digital drawing. I was interested and started trying to draw digitally. Yeah, that was very fun. Maybe this can be a good therapy for me.
Now I am truly in love with digital drawing. Make beautiful art and can also make other people happy with my art. I also continue to practice many things so that my pictures can become better.
There is nothing more fun in this world than doing the things that we really like, and make people happy.
Thank you A&C for being part of my creative journey.